Product Description
Consistent quality and effective production are crucial for any manufacturer's healthy bottom line. Compressed air is a vital resource in PET blow-moulding operation. Inferior compressed lead to poor or unacceptable product quality, for this purpose PET series are your best bet compressors.
Chicago Pneumatic Sales offers 100% oil free quality air supplying compressors specially for PET blowing industry. The wide range of standard or customized model are designed for 24 hours' operation, years after years.
One piece bearing suited for near life time operation: Shrunk fit bearings ensure proper alignment & clearance thereby reducing wear and tear. They have very high load bearing capacity. Ideally suited for short stroke & higher speed piston compressors. Very high reliability & hardly needs replacement.
Product's USP:
It is an advanced 100% oil-free reciprocating compressor air system. Totally engineered, plant tested, proven in performance. Comes with a built-in water/air cooling system. Needs no foundation, Requires very little time and labour in installation. Ready to use. Just plug in to the power outlet. And enjoy quality compressed air.
Technical Data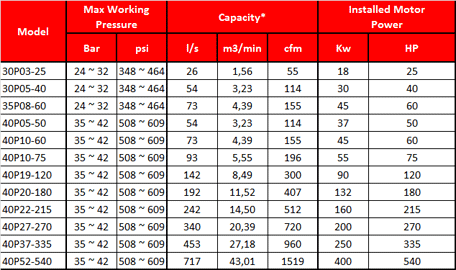 Reference Conditions:
Ambient Temp & Cooling Water: 32°C, 89.6°F
Suction Pressure: 1 bar (e), 14.5 psig
*Reference conditions per ISO 1217 Ed 3
*Capacity measurement at the outlet of Package